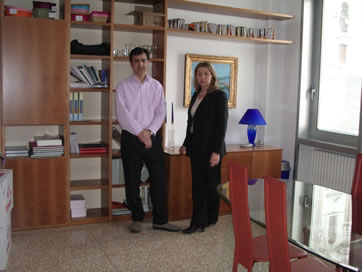 Veca Trading SRL was born in 1990 as import export
company specialized on trades with the countries born of the break-up SERVICES of Yugoslavia: Slovenia, Croatia, Serbia & Montenegro, Bosnia and Macedonia.
Two young entrepreneurs of Trieste, and brothers as well, Caterina and Stefano Vascotto, were successful in inserting their company in those markets. Today has become a point of reference as "buyer" for the operators of those countries and a further important outlet for Italian and foreign well-known manufacturing companies.
For the sale of articles of Italian famous producing companies, Veca Trading SRL is part of their structure of sale and works with their logos, in the countries of the South-East of Europe.
Moreover it supports companies that want to start new trade relationships at international level, helping them in the development of trade relationships.
The activity of Veca Trading intends to offer to its international customers, articles and products of a good quality/cost ratio and of certain interest, with a steady research of innovative offers.
The receivers in the different product sectors involved are both companies of medium and small dimensions, and big industries at national and international level, as well as distributors and wholesalers.
As years go, the experience acquired allows to meet the customers' requirements with a well-constructed offer and to help them even taking care of the logistic aspects that include the carriage of goods, customs operations, as well as financial and banking aspects.